P4 Work this week ( 27th April - 1St May)
1st May 2020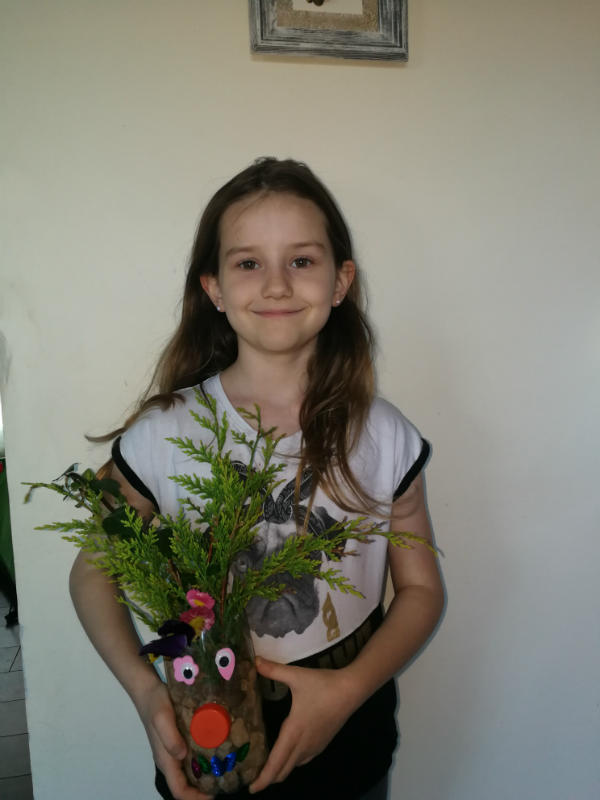 Anna created a Head from things found in Nature
Jarleth working at home
Wiktoria made beautiful butterflies
Alicja created a beautiful butterfly
Wiktoria has been working on her 'Grow in Love' homework
Lilly from Mrs McMenamin's class created a beautiful butterfly
Lorcan and Daire have been making butterflies.
Nicole's beautiful Butterfly
Perspective Drawing by Alicja
Freya has been doing lots of research on Tutankhamun
The Holleran sisters have been out planting seeds
Tiernan has been working on his fractions
Sarola helps feed the new lambs
Well done Lorcan, he has just completed his AR challenge for this week
Emilia from Mrs McMenamin's class wrote a piece about how to draw a Rainbow. Wonderful work Emilia.
Saorla, a recent AR Multi Millionaire, is keeping up the great reading
Tara from Mrs Mongan's Class working on her dinosaur facts
Tara's dinosaur work, we love your dinosaur facts Tara.
Dinosaur facts, what a brilliant drawing of a dinasour
Dinosaur facts in P2, lovely work.
Beautiful work by Cillian
Dinosaur facts in P2, what a fantastic picture of a dinosaur. Well done
Dinosaur facts: beautiful writing and a lovely picture of a Stegosaurus
Dinosaur facts: What a great picture of a T-Rex Hannah
Amazing butterflies
Out feeding the pony some treats
Wonderful perspective drawings
Home baking
Making Pizza at home
Star baker making dessert with his dad
Some beautiful Easter work
A big thank you to our NHS workers from Caiden and Lorcan
Coding some Scratch animations
Using Scratch
A fantastic model
Diary entry by Emilia
Caitlin is enjoying craft work and has made daffodils with egg cartons
Caitlin's T-Rex research
Daire working at home.
Daire completes his building challenge
Dinosaur facts: All about Stegosaurus
Dinosaur facts: Lots of interesting facts and a beautiful picture of T-Rex
Staying safe at home with a good friend
Dominik completing some of his homework pack
Fia entered the M&S design your own garden competition and won. She was given 80 seedlings as her prize and has shared them with her neighbours..
Fionn has been painting rainbows and stones
Fionn has been working through his homework pack
Making Lemon Drizzle cake at home - Yum!
A beautiful bunch of daffodils made from egg boxes, fantastic work Caitlin
Beautifully illustrated dinosaur facts, well done.
Dinosaur facts: Lots of interesting facts about Stegosaurus
Emilia's made a doll out of recycled materials (an eco-doll) to celebrate the Earth Day which was on April 22nd. Its lovely Emilia.
Myah has been baking, well done.
Myah made a lovely butterfly
Caoilfhionn made a time capsule of 2020 and buried it for children in the future so they will know what life was like for children in Enniskillen during the Corona Virus.
Beautiful butterfly work Charly
Dara's story board. Lovely work Dara
Caoimhe doing her school work
Oisin doing his school work
Caoimhe and Oisin baking scones at home
Archive
Contact Holy Trinity Primary School:
Mill Street (KS1) - 028 6632 4959
Cornagrade (KS2) - 028 6632 3313